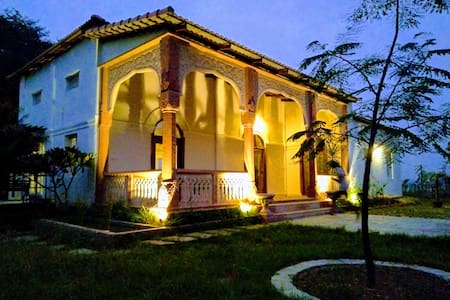 "SUPERVERHUURDER"
Gehele villa · 10 gasten · 3 bedden · 2,5 badkamers
Colonial Style Luxury Party Pad | Teen Duari
Take a day out of your life to enjoy the serene pleasures of the rural landscape. The clean air, the lush green surrounding, and the temptations of lazing around in a beautifully designed Colonial Villa with plush modern amenities. The double ceiling heights add to the aura of Teen Duari Farmhouse. This lake touch farmhouse is located near Chilkur, Moinabad, Hyderabad. Secluded and secure, this party pad is gaining fast popularity among the Genx for it's Vintage styling and chic ambience.