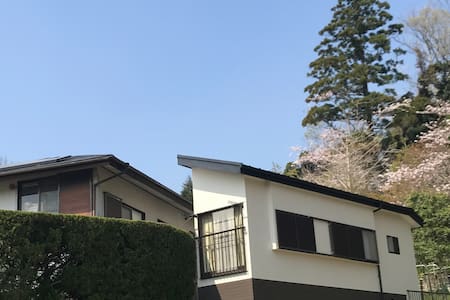 "SUPERVERHUURDER"
Geheel pension · 4 gasten · 0 bedden · 1,5 badkamer
Oami Centre for Education, Recreation and Rest
Oami is an ideally located city on a direct rail line from Tokyo and there is a direct bus service from Haneda International Airport. It is close to the ocean, surrounded by parks, numerous golf courses and a variety of arts and craft facilities. The local culinary specialties are noted throughout the nation. Everyone is catered for in this area and will be comfortable staying here close to Oami Station.
Wat gasten zeggen:
"Shinobu en Paul zijn geweldige gastheer, ze zijn erg vriendelijk en behulpzaam. Shinobu kwam ons ophalen in het oami-station toen we aankwamen met de auto, en bracht ons later naar het station toen we het nodig hadden. Het huis is zo gezellig en schoon, de buurt is echt mooi, de gastheer liet ons zelfs hun fiets gebruiken om de omgeving te verkennen. Wat een onvergetelijke ervaring, ik zou zeker terugkomen naar deze plek wanneer ik de kans had."